Lanier's Gymnastics is located in Gulfport-Biloxi Mississippi.
WE OFFER DEVELOPMENTAL CLASSES MONDAY, TUESDAY, WEDNESDAY, THURSDAY AND SATURDAY!
WE ALSO HAVE A COMPETITIVE TEAM OF OVER 100 GYMNASTS! WITH STATE, REGIONAL, NATIONAL AND COLLEGIATE CHAMPIONS!
We sell LEOTARDS! COME CHECK OUT OUR PRO SHOP!
Lanier's Recreational Program will be closed Monday, December 23, 2013 thru Monday, January 13, 2014. This includes all day and evening classes as well as tumbling.
Classes will resume normal schedule the week of
January 13, 2014.
Merry Christmas and Happy New Year to all!!!
---
Congratulations to Level 9 Sarah Edwards for a job well done at the Level 9 Eastern National Championships.
Sarah placed 5th on vault, 2nd on floor and 6th in the All Around. Sarah was the only gymnast from Region 8 to place in her age group. Way to go Sarah!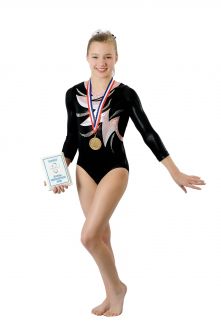 ---
Congratulations to All of our Regional Champions

Sam Brascia - Vault Champion

Anna Brascia - Bar Champion

Sarah Edwards - Floor Champion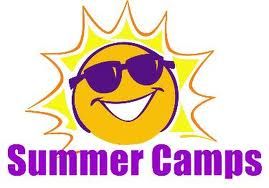 for 2013
Developmental Classes:

June 10-14 (Biloxi)

June 24-28 (Gulfport)

July 15-19 (Gulfport)

Competitive Team:

June 17-21 (Biloxi)

July 15-19 (Gulfport)
Lanier's rocked at the 2013 Spring State Championships! Here are the results:
Level 1 - State Champions
Level 2 - State Champions
Xcel Bronze - State Champions with regional qualifiers (Alli Shemper, Adriane Pico, Jillian Shoemaker, Tanner Albrecht and Haley Brown)
Xcel Silver - State Champions with regional qualifiers (Anna Grace Deakle, Lauren Carothers, Hailey Hancock and Maddie Moak)
Xcel Gold - State Champions with regional qualifiers (Allie Brascia, Brooklyn Holton, Sam Brascia, Mallory Streetman and Aubrie Edwards)

Xcel Platinum - State Champions with reginal qualifiers (Anna Brascia, Sierra L'esperance, Tenay Malachi and Maddie Williams)
Optionals - State Champions with regional qualifiers (Reece Bowen, Kendall Pitre, Haley Kim, Jadelynn Yocum, Sarah Edwards, Savannah Vander Grinten)
CONGRATULATIONS TO ALL LANIER'S GIRLS! EACH AND EVERY ONE OF YOU PLAY A VITAL ROLE IN THE MAKE UP OF OUR TEAM! WE LOVE ALL OF YOU!
CONGRATULATIONS TO THE LANIER'S LEVELS 3 AND 4 GYMNASTS! BOTH LEVELS WON THE STATE CHAMPIONSHIPS HELD IN STARKVILLE, MS. WAY TO GO GIRLS! ALL OF THE COACHES ARE SO PROUD OF YOU!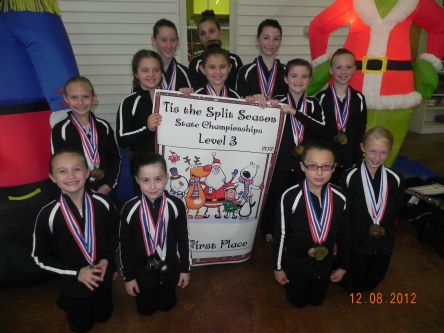 LANIER'S 2012 LEVEL 3 TEAM
---
Developmental Classes have had a great start in the new year! Lots of new students learning new skills! It's not too late to sign your child up - stop by or call one of our locations to get more information!
---
The Southern Classic was a huge success! Thank you to all of the attending teams!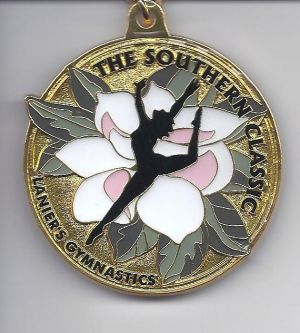 ---
LANIER'S GYMNAST JORDAN SALSBERG RECEIVES SCHOLARSHIP TO ARKANSAS!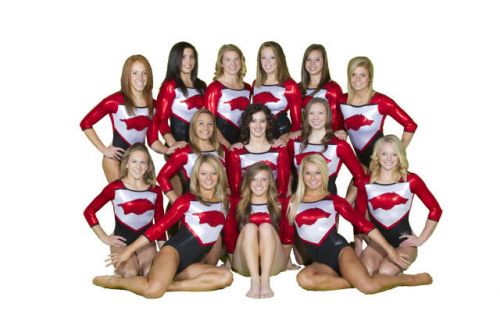 JORDAN WAS A LANIER'S GYMNAST FROM AGE 5-17 - WE ARE SO PROUD OF HER!
(Jordan is pictured bottom row, far right)
---